Straight talk,
You can only market your information products or services if you're visible.
And, I bet right now you are feeling INVISIBLE on Facebook.
Your discovery call calendar is empty, your group is a ghost town, and your ideal client can't hear you in the noise on Facebook.
Your daily posts on Facebook, Instagram, and Twitter get buried in the feed.
Your funnel is drying up after this latest Facebook update.
Know why?
It's because you aren't on the right social network!
Imagine a platform where organic reach is fantastic, where people are already attuned to business opportunities, and where your niche isn't saturated.
That platform is LinkedIn.
And you are already there!
You're just not using the platform right.
Instead of making money on LinkedIn, you're just checking up on ex-coworkers!

Not only do you already have an account, you already have content that you can repurpose.


You already know that LinkedIn is the social media network for decision makers, gatekeepers, and business action takers!
But you're stalling on taking the leap.
✔️Maybe you're freaking out about the tech.
✔️Maybe you're not sure where you will find the time.
✔️Maybe you're worried about being so visible.
And yet, despite it all, you want to help the people who need the solutions that YOUR business can solve!
Sure, you could wait around for your ideal customers to find you on Facebook, maybe spend a lot of money on ads boosting your posts and then hope they will see it in their feed and click into your funnel.

Or you could show up on LinkedIn, find those people who are ready for your product or service, and make yourself impossible to ignore as a thought leader.

Sami Gardner, here. I am a LinkedIn Specialist, former Librarian, and current World Traveler. I inspire artistic, techie, and socially conscious types to craft their career and businesses on their terms.

I believe that you can be uniquely professional and still be uniquely you!

I have been a LinkedIn junkie since I started career coaching years ago because I made it work for my clients. Then I made it work for my business.

I have gotten speaking opportunities, grown my visibility, and connected to clients through growing my network and posting valuable content.

I have taught both job seekers and entrepreneurs how to get noticed by the right people on LinkedIn and I can teach you too!

LinkedIn Mastery for Solopreneurs is an 15-module self-paced digital program for anyone who wants to monetize their profile, land clients, and make money on LinkedIn.
It's basically the accumulation of everything I've learnt from my years working as a career coach and LinkedIn specialist with hundreds of clients from freelance iOS Developers to college Librarians to growing startups!

By the end of LinkedIn Mastery for Solopreneurs you will...

Have learned a practical actionable step-by-step strategy that you can implement to launch your LinkedIn funnel.

Feel uber confident on navigating all technical stuff that had you feeling stressed and wary.

Have curated an awesome list of all your best content that will attract your ideal client.

Know exactly how to curate the best connections for your LinkedIn goal– even if you're a complete unknown.

Understand the LinkedIn culture and how to promote yourself without looking smarmy and alienating your connections.

Know when to post to maximize the number of people who see your content.

Feel knowledgeable on if a LinkedIn group is right for your business

Know exactly how to write your profile to create engagement, excitement and eager anticipation in your ideal client.

Have learned proven tactics for pitching and selling your offerings via LinkedIn
Ready to Get Noticed by the RIGHT People on LinkedIn?

Scroll to the Bottom to Enroll Now!
LinkedIn Mastery for Solopreneurs includes:

15 pre-recorded video lessons and a printer-friendly workbook for you brainstorm in as you learn.

Step-by-step guides to walk you through repurposing Facebook livestreams and automating your posts.

The how-to's behind finding the perfect leads for your business and getting them into your sales funnel.

The skinny on the differences between LinkedIn and Facebook.

3 Hours of Bonus Video Content Including Case Studies!

A LinkedIn 101 masterclass that'll leave you feeling like a LinkedIn Power User.
This is LinkedIn explained in plain English. It has never been so easy to start selling on LinkedIn.

Here is how developing your LinkedIn Mastery with this course will look like:

Module 1: Welcome to the World of LinkedIn

By the end of this module you'll have learned:
The 411 on LinkedIn from peak posting times to understanding your ideal LinkedIn connections.

Why LinkedIn goals are important and how to make yours.

How a LinkedIn funnel works.
Module 2: Power Your Profile
By the end of this module you'll have learned:
How to write a LinkedIn profile that sells your business.

How to plot out your own LinkedIn funnel.

The ins and outs of LinkedIn etiquette.

The tech of updating your profile and finding leads.
Module 3: Power Your Content
By the end of this module you'll have learned:
How to create a LinkedIn strategy.

How to create juicy content that converts.

Step by step guides on repurposing your Facebook content.

How to record video through the LinkedIn mobile app.
Module 4: Power Your Groups
By the end of this module you'll have learned:
The tech overview of how to set up a LinkedIn group funnel.

How to know if a LinkedIn group is right for you.

How to find ideal customers in LinkedIn groups.

How to set up a LinkedIn group, step by step.
It's intervention time for coaches, virtual assistants, and brand consultants trapped in the Facebook and Instagram box.

Escape the noise, pay-for-play, and dwindling audience.

LinkedIn has more active users than Twitter and you can curate your connections so you pick your content's audience!

And they will actually see your posts.

LinkedIn Mastery for Solopreneurs is for you if…
You are sick of throwing money into the Facebook Ad black hole!

You are a coach, designer, virtual assistant, or consultant.

Your ideal clients are CEOs, professional women, business owners, startups, etc.

You're looking grow your list, increase your visibility, and connect with potential customers and clients.
You can dominate your niche on LinkedIn with your existing content, products, and services.

Here's a quick recap of what's included:

15 video lessons.

A printer-friendly workbook.

The tech stuff for Buffer, LinkedIn Groups, Filmora, and more explained.

The strategies and tactics to gather a following on LinkedIn.
Let's Talk Business.
LinkedIn Mastery for Solopreneurs is regularly priced at $250. I know that this material will increase your organic reach, get you in front of your ideal customers, and supercharge your lead generation. If you implement all that you learn in this program, you will grow your list, land more clients, and make money on LinkedIn!
I could charge double, but just because I can, I won't.
I guide my clients in understanding their "career why" and my career why is helping people design their business and career success. I don't want price to stop a solopreneur from breaking out from the crowd and serving their customers.
LinkedIn Mastery for Solopreneurs is yours for a one-time payment of $250. Price does NOT include EU VAT.

Ready to Make Money on LinkedIn?
Scroll to the Bottom to Enroll Now!
How can I be so sure about this course? Because I have included everything you need to know about standing out, shining bright, and attracting your tribe on LinkedIn.

This is what people say about my LinkedIn coaching and services: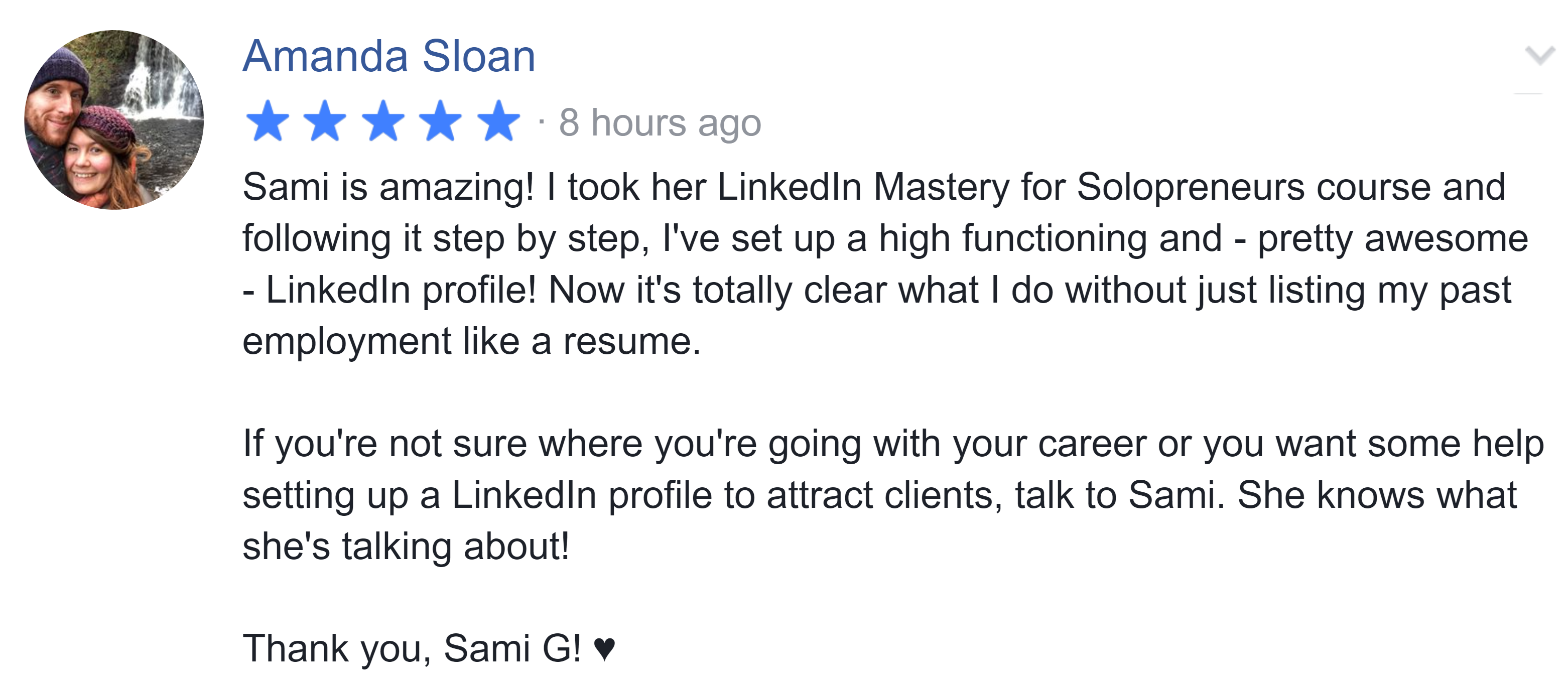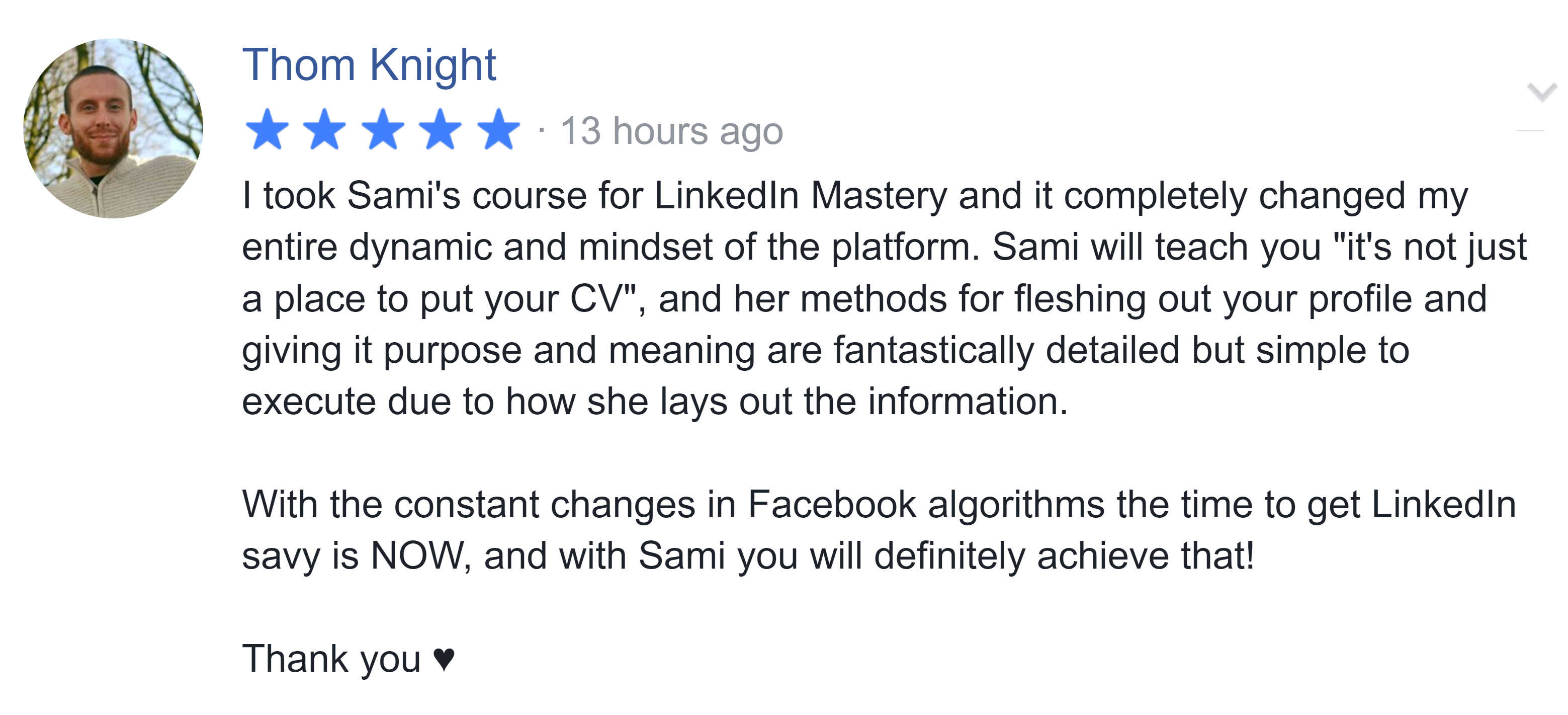 It's time for you to take your business to the next level- with LinkedIn!

Ready to Grow Your Business on LinkedIn?
Scroll to the Bottom to Enroll Now!
Still have a question?
Check out the Frequently Asked Questions below:
Q: Is LinkedIn right for me and my business?

Marketing strategists, virtual assistants, graphic designers, copywriters, web developers, speech writers, non-fiction authors, and so many other kinds of solopreneurs can build their brand, garner opportunities, and land clients on LinkedIn.

If you're a Facebook-based online business owner and you want to learn how to stand out on LinkedIn, captivate your connections, and monetize your profile, you're right for LinkedIn Mastery for Solopreneurs.


Q: Can you give me an idea of how many hours per day realistically it will take me to effectively implement what I learn in the program?

This is a comprehensive beginner to intermediate course.. You can expect to spend at least 3 hours watching the videos then more time writing your profile and implementing tactics. If you already know your brand well and have content, you will take less time to implement.

Q: Do you have to have a online business before you sign up?

To get results from this program, I would recommend that you need to have a validated and working idea for the business that you intend to launch before signing up.

The course is created for Solopreneurs who have started their business, created content, and already have at least one product. They will get the most from this program.

Q: I have a solid business idea but I'm still trying to figure out who my ideal client is. Will LinkedIn Mastery for Solopreneurs help me with that?

Yep, absolutely! We go over ideal connections/clients and how you can learn more about them through searching on LinkedIn.

Q: I don't have a B2B business – is LinkedIn Mastery for Solopreneurs still a good fit for me?

There are plenty of reasons for B2C Solopreneurs to be on LinkedIn. Some examples include:

Pitching brands for sponsorship.

Reaching out to bookshop owners for book tour.

Seeking out speaking opportunities.
If you're looking for a way to get in front of more potential clients and customers, and serve more people, LinkedIn Mastery for Solopreneurs will help you!

Q: How quickly will I start seeing a return on my investment?
Since your efforts are what truly get your results, I can't provide a definite answer to this question.
I can tell you that if you implement all of the LinkedIn tactics and knowledge in the bootcamp that you will expand your reach, add to your list, and get noticed by the right people on LinkedIn!
Q: What if I find the program isn't for me? Can I get a refund?

YES! If you realize that this course isn't a match for your business needs,within 14 days of enrolling, I will give you a full refund.